We are the artists dwelling on the edge of ancient woodland in Knottswood's craggy gorge aligned with Robinwood Mill. Our inspiration during this challenging time of change for all, was to shift perspective, go underground be rhizomic and become more open and think, question, make and create a collection of new works connecting the power of the landscape with humanity.
Phsycogeographically we moved around, merged and aligned with powerful ancient and historical narratives, places everyone can physically and spiritually go and connect with. 
As Studio Knottswood in Mass X: we create through and with past present and future relationships with our bodies our cultures, in a multi-dimensional landscape imbued with myths and
folklore.
The exhibition aims to viscerally express that we are not owned and controlled by governing forces, we are free to belong in our natural environment. We are the people living, inhabiting our places and our spaces. We are all powerful souls; this is our ecology.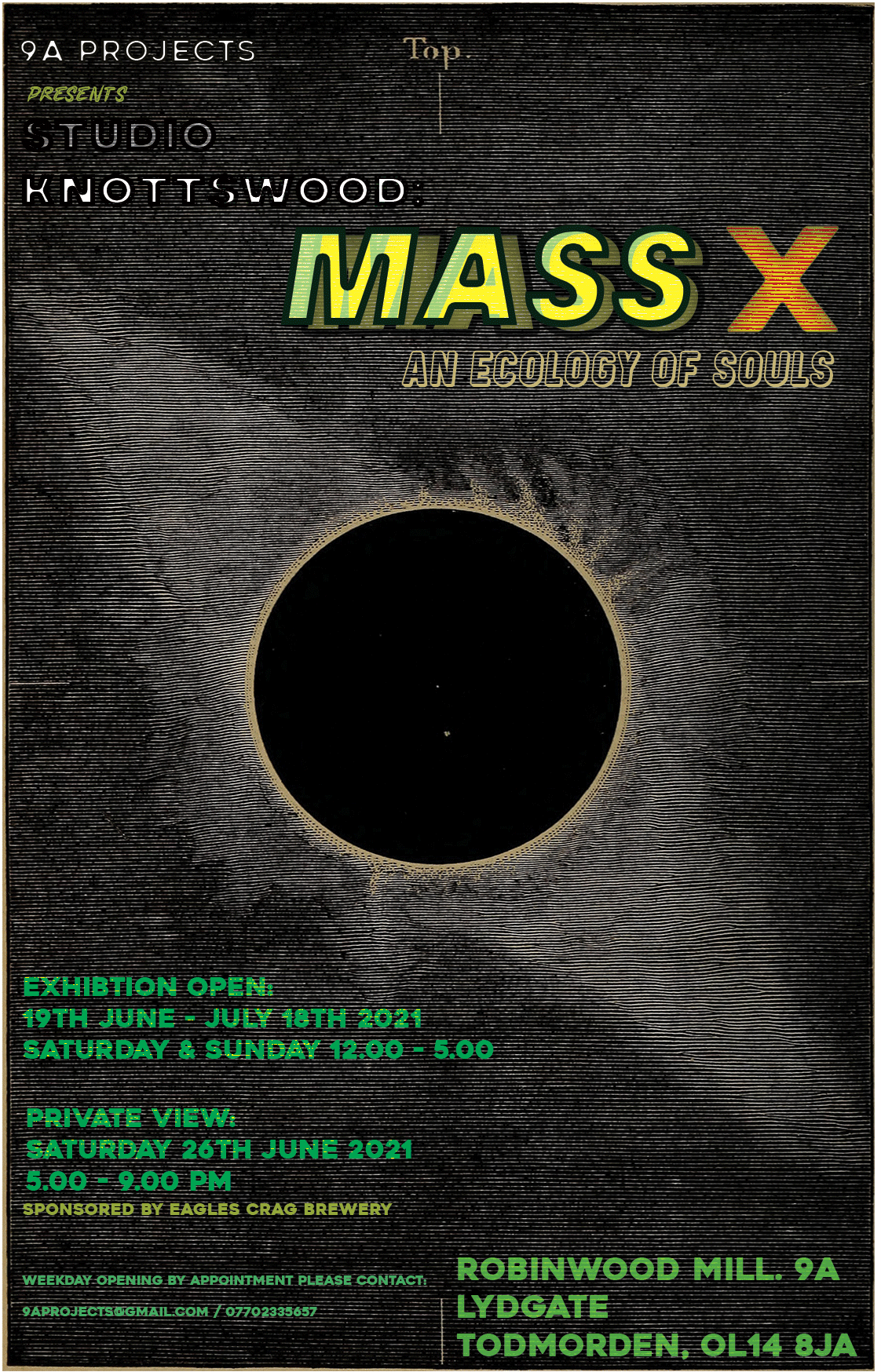 9A Projects Presents Studio Knottswood
​
PREVIEW SATURDAY 26TH JUNE 2021 12-5PM
OPEN SAT - SUN FROM JUNE 26TH UNTIL JULY 25TH EVERY WEEKEND 12 - 5PM AND WEEKDAYS BY APPOINTMENT.
​
MASS X: An Ecology of Souls.
As we move towards alignment with the Summer Solstice on June 21st, in the astronomical year 2021, Studio Knottswood present at 9A Projects Space, Robinwood Mill, Lydgate,Todmorden: MASS X: An Ecology of Souls, is an exhibition of Sculptural Drawing, Photography, Print Making and Projection.
Studio Knottswood are creating lived experiences of art, heritage and ecology; making reconnections to the place and landscape, rooted in the here and now, revealing unfound ground paths and rhizomic connections hidden within the people's, places, and environments.
Their psychogeographic artworks constellates within the Calder Valley and Todmorden's folklore, myths, and ritual are invoked through visual and aural storytelling. Experiencing Mass X: An Ecology of Souls is about being and art; making a space for change, dissolving the system, the simulation and the spectacle, and connecting us to our physical human and spiritual heritage.
Mass X: an ecology of souls end show sound and light performance in collaboration with Analogue Farm.
​
Projection art by Studio Knottswood and sound art by Analogue Farm.
​